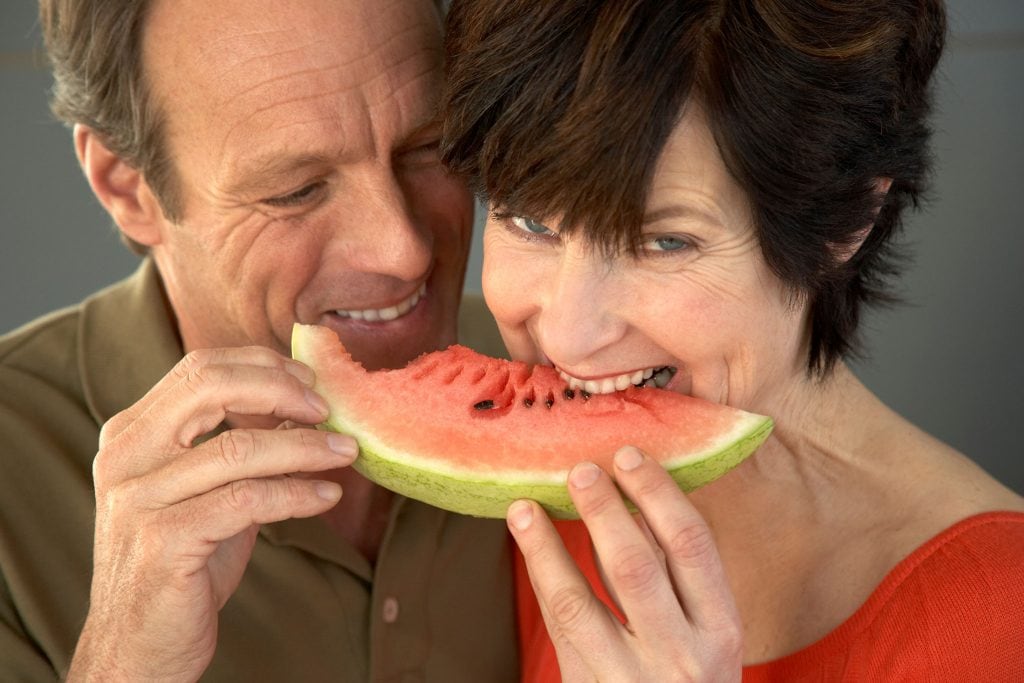 It's time to get patriotic fellas and start raising and "saluting your own flag."
A new study came out from Texas A&M University stating that watermelon is a natural form of Viagra. Scientists say watermelon has ingredients that deliver Viagra-like effects to the body's blood vessels and may even increase libido. Dr. Bhimu Patil, director of Texas A&M's Fruit and Vegetable Improvement Center in College Station, says that watermelons are beneficial to our health in more ways than one. The fruit also contains lycopene (like in tomatoes), beta carotene (like in carrots) and citrulline. Watermelon can relax blood vessels like Viagra does, and it "can also help heart health, the immune system and may prove to be very helpful for those who suffer from obesity and type 2 diabetes," says Patil.
Not only may Watermelon be able to spark up your "bottle rocket," but it may also prevent future erectile dysfunction. Certainly, as we all know, there are many complex psychological and physiological causes for impotence, but the study shows that extra nitric oxide in watermelons could increase blood flow, as well as treat angina, high blood pressure, and other cardiovascular problems. The deeper the shade of red the fruit boasts, the better it is for you – rich in anti-oxidants to protect the heart, prostate and skin.
Serving suggestions: Cut the watermelon in half, the long way, and carve out the watermelon using a melon baller. Slice a small piece off the bottom of the shell so that it can lie flat on a table. Then fill the shell with watermelon and other fruits for a naturally pretty dish for guests. Watermelon stays best unrefrigerated, but once you slice it open, be sure to chill the fruit.
One more benefit of watermelon: Whether you prefer to spit or swallow, you can always enjoy a nostalgic watermelon seed spitting contest – just like you did "back in the day."
Previously Published in 2008