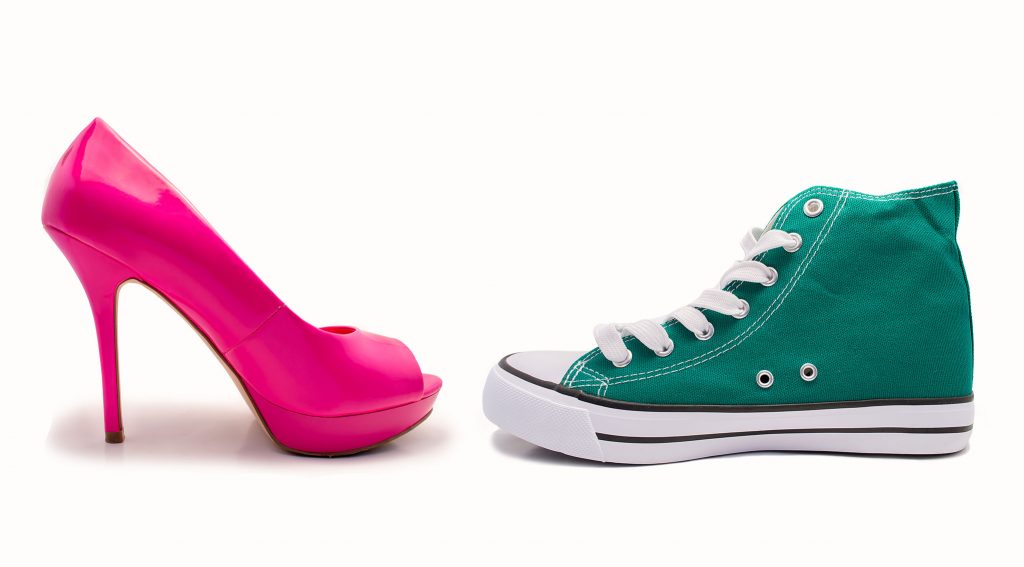 For me, as for so many women of my generation, shoes transport. Much like Dorothy in the Wizard of Oz, a new pair of shoes works magic. It may be transitory, but sadness disappears and the sun shines. I don't think of myself as shallow, but a new pair of shoes works magic on my soul. Nor do I compete with Imelda Marcos. It's just that I'm distinctly female and shoes have always held a special place in a woman's heart. Young women wear their Jimmy Choos, Manolo Blahniks and Pradas proudly. And Carrie, of Sex and the City fame, shows us that what may be in our gene pool still exists.
When I feel sad, bad, mad or glad, shoes demonstrate my mood. Inexpensive as the two pairs for $28.00 that I recently picked up at a hidden-away shop in the middle of St. Augustine or shoes costing "mucho" more, I'm always drawn to the latest and greatest style.
Even as a young woman, I knew those 3 inch spikes, designed by men for women, pierced men's testosteroneladen hearts. Porno movies know this (yes, I've seen a few) and staples of the show are often proper pearls, hose and high heels. Not a porno person, I still survived pain for gain: cramped toes, pulled hamstrings, aching arches – all to be a "fashionista," ignoring my chiropractor's sensible warnings that all this was bad for me and I would grow to regret my personal form of abuse.
Now, well into the second half of life, grudgingly, I have to admit he was right.
Today I live with the damage wrought of youthful arrogance and my sense of invincibility. I can't stand for more than a few minutes in a heel higher than two inches. Most of my Ferragamos have been given away. (Notice I say most.) And unless I'm giving a speech or attending a function where it's necessary to get out fancy duds and enjoy a sit-down dinner, the days of wonderful stilettos are long gone. Today, I can tell the approximate age of a friend or someone I may meet or interview by the shoes on her feet. For most over fifty, comfort and style are at war. The awareness of the need to cater to my market has given rise to a bevy of new designers whose products are geared just for us. Taryn Rose (www.TayrnRose.com), an orthopedic surgeon who loved high style shoes and wanted comfort as well, pioneered high style shoes, often made with recyclable products that are also comfortable. "I was known to leave the hospital, go straight to Neiman Marcus, and speed shop the last 15 minutes they were open," says the surgeon turned shoe designer, now CEO of her own $20 million company.
Sister and brother team Donna and Dr. David Handel, founders and developers of Cameileon (www.camileonheels.com) make shoes with retractable heels so that a woman may walk in comfort and arrive in beauty. They are among an entire bevy of shoe designers springing up daily who design for the new me.
So, I walk around in sneakers as much as I can. I sneak looks in the windows of Comfort Shoes, and I have my Arche and Echoes that I wear when my need for comfort really beats out my craving for high style. But do I miss those stilettos that made me feel sexy and were meant to pierce a guy's heart? I sure do. And all the good points of saging haven't compensated for that loss… Do you grok me?
Previously Published in 2008